zweelum
So I'm sitting here creepy!grooving to Black Mirror when I hear this
huge
series of explosions. I'm not talking the comforting echoey *pmff!* *ffvvv-pah!* *pumpumumpaaah* noises I've been hearing from over the hills all evening. I'm talking, someone several houses down the street setting off fireworks
over the trailer court
.
I figured if I was going to have my residence burned down I could at least get some good pictures out of it. I'm on a sort of corner, so I had a good view of shadowy figures setting stuff up in the middle of the street, and also of the firework that "fell over!", so they cried.
It looked like this: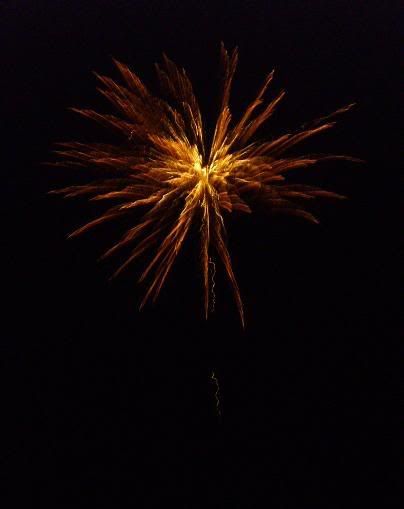 Only instead of blossoming in the sky it exploded all over the street, several yards, and the family setting up the fireworks.
They're still going, too.